Times when your loading docks are vacant can present safety risks to your employees and equipment. Your employees need to be protected while they are working, whether they are driving a forklift, working on foot, or running a pallet jack. W.E. Carlson provides solutions to ensure personnel and equipment are safe at all times with their Drop-Off Protection Barriers.
Why Proper Barriers are Essential for your Operation.
Companies hold the responsibility to provide a safe work environment and adequate protection for their employees. There are also guidelines set in place by ANSI and OSHA regarding safety practices for openings where danger exists. Your company must learn and follow those guidelines because not only are they required, but they are important in protecting yourself against disability claims and having to replace or repair damaged products.
W.E. Carlson Products for Loading Dock Protection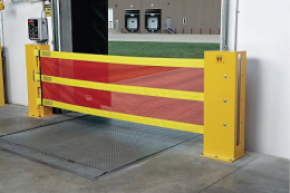 These Heavy Duty Dok-Guardian barriers are bright red and yellow, providing a visibile warning as well as a safety barrier. They are built to stop up to 10,000 lbs traveling at 4mph. When your operation's dock is being used, the Dok-Guardian manually restracts into a side Rite-Hite Warden.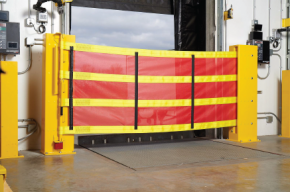 ​The Dok-Guardian XL is designed to withstand impact is also designed to integrate with Rite-Hite's powerful Dok-Commander interlock system, to ensure full time loading dock safety. It stops up to 30,000 lbs for the heavy duty application and up to 5,500 lbs for the light duty application.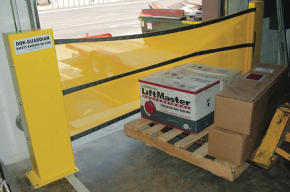 The Dok-Guardian LD serves the same function as the HD, but for smaller loads up to 1,000 lbs. With a bright yellow color, there is a visible warning that your dock is empty on the other side.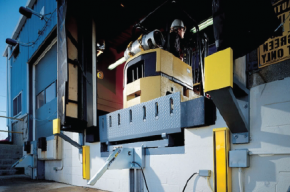 The Safe-T-Lip Leveler is installed on your current hydraulic leveler and creates an extremely strong safety net. It is made of solid steel and is strong enough to block a forklift from going off the ledge, which can cause serious damage.
Creating a Safe Workplace
Choose W.E. Carlson for ways to imporve safety around the loading sock. Providing visible and physical safety measures for your employees and equipment goes a long way to ensure your operation follows ANSI and OSHA guidelines, runs smoothly, and improves the overall work environment.
To learn more about what W.E. Carlson has to offer, contact us. We look forward to showing you how easy it is to improve your workplace protection.