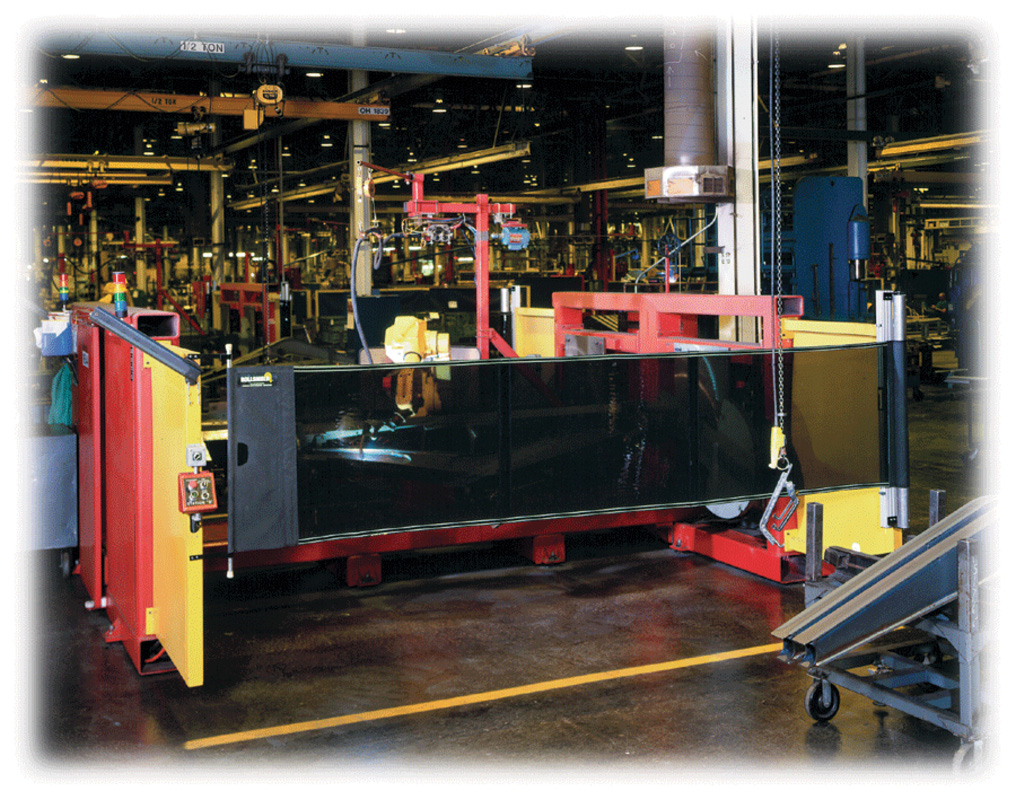 The warehouse can be a dangerous place to work, especially if it is full of heavy machinery and has an open format. If your employees currently walk right past heavy machinery or operating equipment without any type of barrier, it's time to make a change.
According to the Occupational Safety and Health Administration (OSHA), the warehousing industry fatal injury rate is higher than all other industries. For this reason, warehouses are required to follow certain safety regulations established by the OSHA. Machine guarding products can help you remain in compliance with minimum OSHA requirements while keeping your employees safe from common warehouse hazards.
Machine Guarding Basics
In order to be fully compliant with OSHA regulations, all machines that expose employees to injury must be guarded. A few of the most common types of machines and processes that require guarding include:
Factory automation and robots
Paper and textile manufacturing
Cutting systems
Plastic molding machines
Packaging machinery
Production lines
Material handling and manufacturing
There are different types of machine guards that protect against different things, so it's important to select the guard that's most appropriate for the specific machine it guards. Some machine guarding is better suited for weld flash protection and hazard containment while other types are intended to limit access to restricted areas. Familiarize yourself with the different W. E. Carlson machine barrier types so you can choose one that's a good fit for your warehouse.
Defender™
The Defender™ Automated Barrier Door is designed to meet current regulations while physically guarding your employees from machinery. It also provides PLe level safety monitoring and protects against flying debris, which makes it a safer option than a light curtain guard.
FlashFold™ Guard
FlashFold™ Barrier Door is unique in design because it provides an automated, vertical-rising barrier door that allows fork lifts or overhead cranes to lift materials into and out of the work cell as needed. It also provides protection from common machine hazards and takes up a smaller area in your warehouse than many other guarding systems.
RoboGuard™ Fixed Barrier Fencing
RoboGuard™ Fixed Barrier Fencing provides impressive security thanks to its eight-gauge welded steel wire panels. It also has multiple door configurations that make it possible to control access to restricted work areas. This system is easy to install and is ideal for conveyer guarding, perimeter fencing, tool cribs and security enclosures.
Benefits of Machine Guards
Besides the obvious benefit of protecting your warehouse employees from moving machinery parts and debris, W. E. Carlson machine guards can also reduce the footprint of your manufacturing cell by keeping hazardous cells contained in a smaller area than open-model systems allow. They can also be manufactured to your size requirements, so you have even more control over how much space they take up in your warehouse.
Defender®, FlashFold® and RoboGuard™ machine guarding systems are all designed to protect from accidental discharge, airborne debris, mechanical movement, fumes, sparks, heat, smoke and spray or mist. They provide easy access to the warehouse and can withstand industrial-strength use while also offering full-time employee protection. If you want to give your employees the best possible protection in the warehouse, look into upgrading your fragile light curtain guard with a heavy-duty, reliable machine guard.