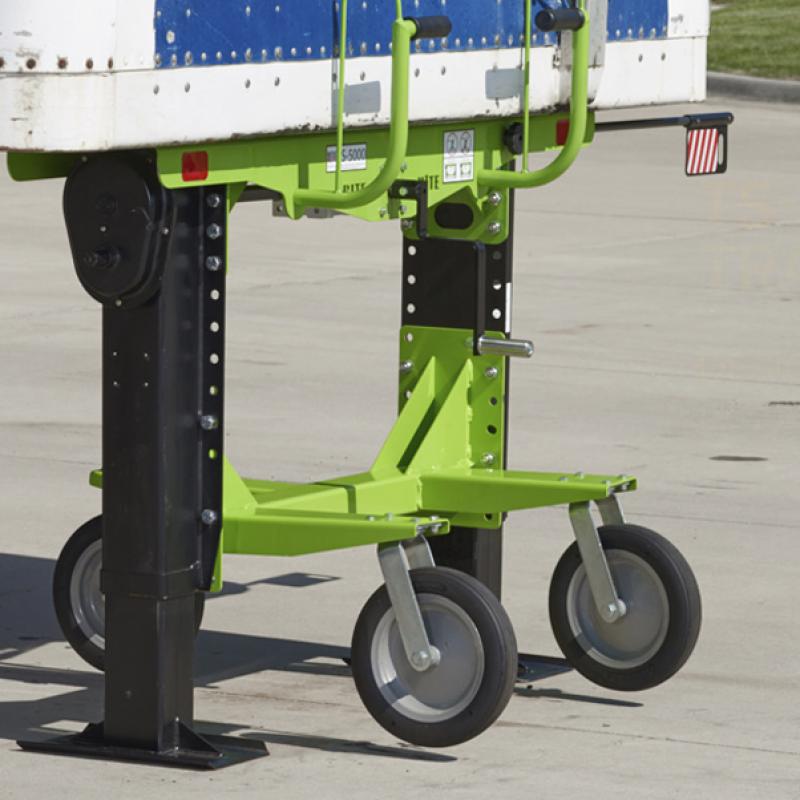 Warehouses, factories, distributing centers and plants are busy facilities. One area that gets a lot of activity is the loading dock due to the constant flow of semi-trucks, forklifts, workers andproducts. With so much traffic the potential for hazards lurk around the corner. A common problem that takes place in this work setting is landing gear collapses. This can result in injured employees, damaged goods, broken equipment and decreased productivity. Fortunately, the new Trailer Stabilizer is the best solution for preventing these accidents.
A Closer Look at the Accidents
What's the cause of landing gear collapse? The most obvious cause is the mechanisms buckling under extreme weight conditions. Also, a rusty or barely used device increases the likelihood of collapses taking place. Incidents associated with these mishaps are preventable when the right security measures are taken.
A Trailer Stand Like No Other
The separation between a trailer and dock can happen at any time. Often trailers tip over when the landing gear leg collapses. The new trailer stabilizer is designed to support spotted semi-trailers. The advanced design is well-suited to handle static loads with capacities that top out at 140,000 pounds. Rite-Hite, our leading manufacturer of loading dock solutions, has equipped the device with features that can reduce incidents of trailers dropping and tipping over. These key specs include:
Extra wide 66-inch top plate
Twin vertical supports
Several units can nest for storage
Field adjustable to accommodate most standard trailer heights
Operating range from 40 to 56 inches
The Trailer Stabilizer provides safety and support. It covers over half of a 48-inch pallet that's loaded snug on the trailer's side. The device also spans 65% of a 102-inch trailer width. This works great for uneven loads.
Heavy Loads Aren't a Problem
A trailer carrying heavy loads runs the risk of encountering mishaps at the loading dock. This is especially the case when its front end carries the bulk of the load, which results in tip overs. The same thing can happen when forktrucks load at the front of the trailer resulting in upends due to the uneven weight distribution.
It's Easy to Use
Trailer Stabilizer is a user-friendly piece of machinery. Your workers can get it up and going in no time. The ergonomic design comes with several grip points and a ready-to-use crank. The three-inch wheels make it easy to operate and move.
Work With Industry Experts
Loading dock safety and management is an important part of running your facility. Preventing landing gear collapses is simply good for your business. With the new Trailer Stabilizer, you have a reliable solution at your disposal. It's sturdy design and built-in safety features are ideal for taking on heavy or uneven loads. This easy-to-use unit is an asset that can help you keep your daily operations running smoothly by lowering employee, product and machinery hazards associated with faulty landing gear. Call us today to learn more about this game-changing device.