Keeping your employees safe, comfortable and cool in the warmer months can be a top priority. Their ability to keep working hard and ensuring all jobs are complete is important to keep productivity and production up for your warehouse. A simple way to keep employees cool and comfortable is taking advantage of our HVLS fans. With the use of HVLS fans, you not only keep your employees cool, but also helps with controlling the use of energy and power, helping to control costs.
See how the Revolution 25/75/150 Series of HVLS fans for can help your warehouse members.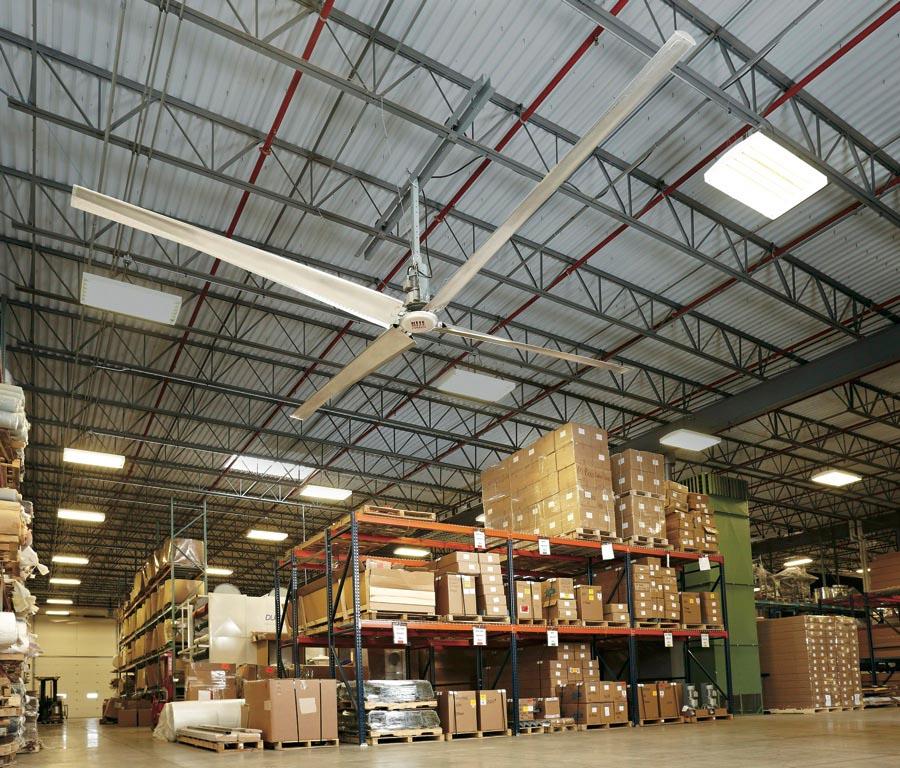 Stabilize Air Temperatures
Other companies attempt to stabilize temperatures by using pedestal and wall-mounted industrial fans. These fans typically can only control small areas. As a result, you would need more fans to get the job done. However, with our Revolution Series of industrial ceiling fans, we offer powerful temperature control and stabilization. Each series comes in a variety of blade sizes and voltages. Consider the following features:
Resemble the paddle fans you would find in a home. Paddle-type fans are more effective at forcing the warm air downward. Revolution Series fans are larger and more powerful than home paddle fans. They are available in diameters of 6 to 24 feet. The coverage area of the higher-end 75 Series and 150 Series units is up to 22,000 square feet (85-foot radius) or approximately one-half acre.
Quiet. Their noise level is between 38 and 42 decibels. For reference, 40 decibels is the noise level you might expect in a library.
Efficient. Depending on the model, the motor can be as small as 0.5 hp using as little as 50 Watts of power. It can be as large as 2 hp using as much as 2,000 Watts of power.
Operate in most industrial voltages. All three Revolution Fans are available in 240 and 277 volts. The smallest Series 25 unit is also available in 120 volts. The high-end Series 75 and Series 150 units are also available in 400 and 460 volts.
Incorporate a direct drive motor. The motor is silent and requires no maintenance or oil. Being maintenance-free means that these fans need little or no attention once the installation is complete.
Keep your employees cool and save money in the process. Contact us at W. E. Carlson, and we can help plan a solution using the new Revolution Series Fans.